850hp Pro Street Muscle Car '66 Chevelle SS Does Burnouts With 565 Big-Block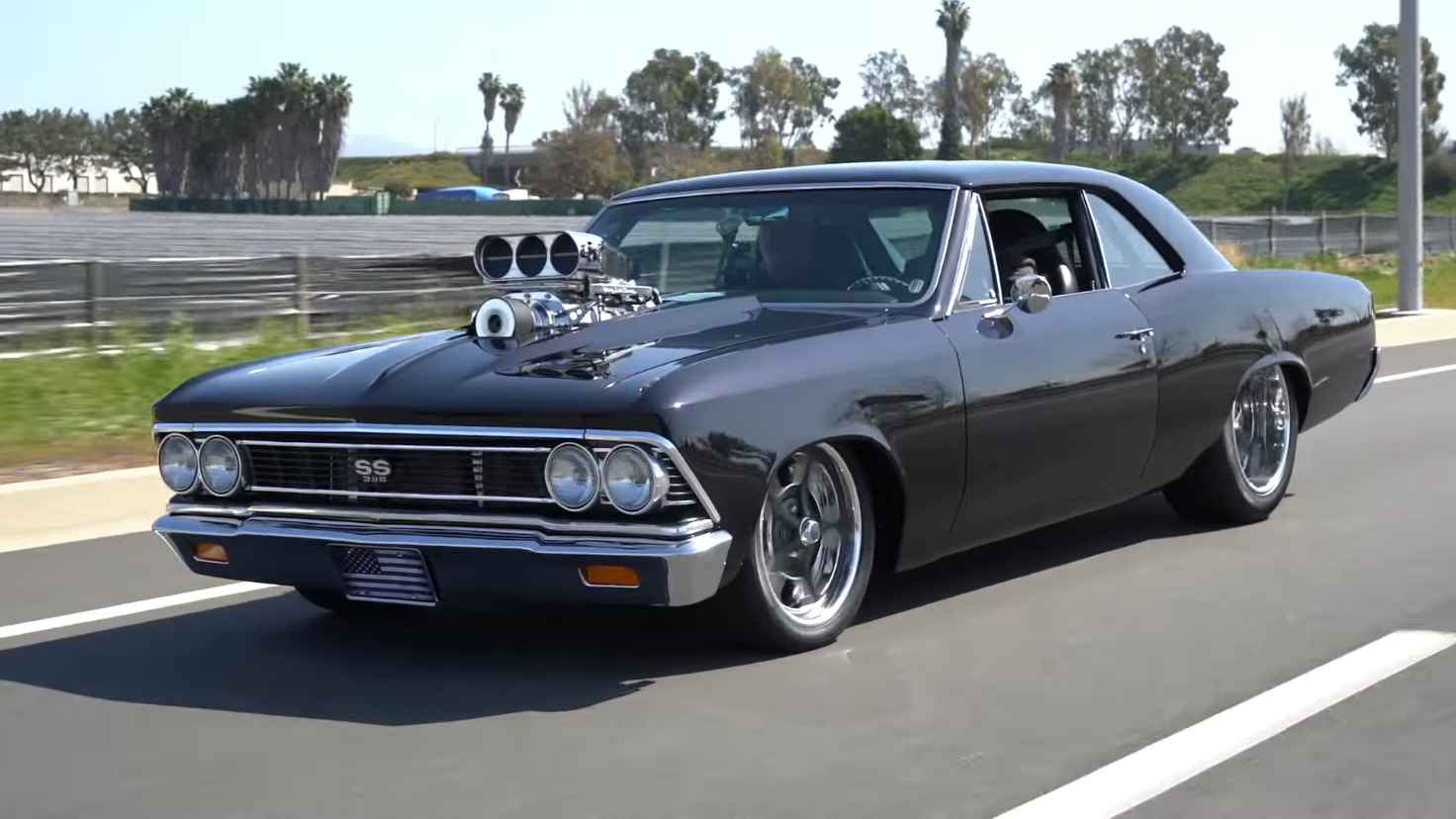 When you first lay eyes on the 1966 Chevelle SS we're about to delve into, you'd be forgiven for thinking you've stumbled upon an old-school drag car. The massive supercharger jutting out of its hood is a dead giveaway, but the surprises don't end there. This Chevelle, however, defies convention. It's a blend of raw power and understated elegance that could easily fit right into a Men in Black movie. A dark blue exterior, reportedly derived from a Bentley color, replaces the flamboyant paint jobs typically associated with pro-street muscle cars. Let's buckle up and take a closer look at this seriously bada** ride.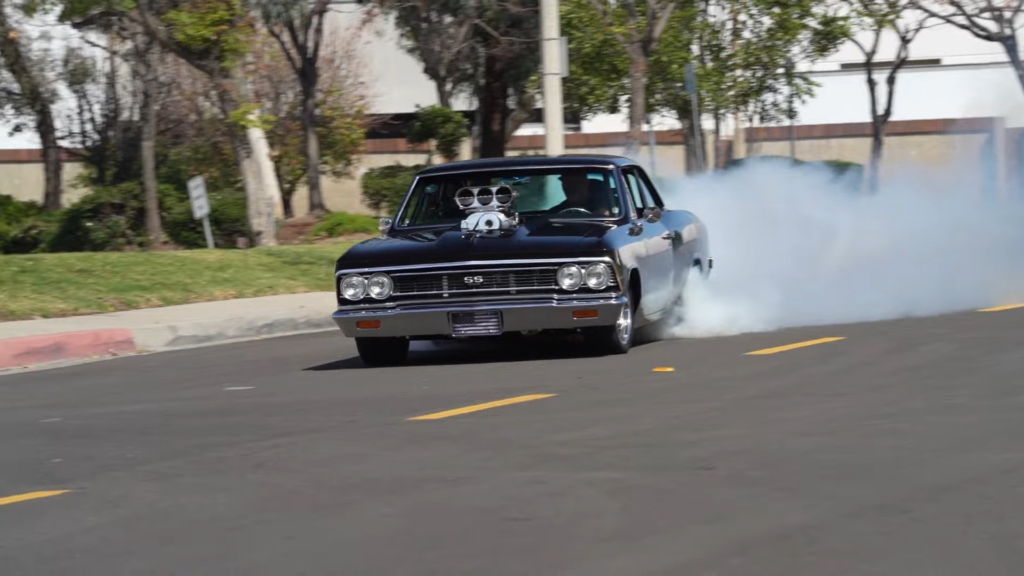 The Chevelle's visual impact is only a taste of what it can deliver. Beneath the hood lies a true beast – a 565 big-block V8 that displaces over 9.25 liters of Chevrolet goodness. While the badges may say "396," this powerplant is far from stock. The engine isn't just big; it's also supercharged, making 850 horsepower. That's certainly an impressive figure, but what's more intriguing is the fact that it could easily produce over 1,000 horsepower with a different pulley. However, the owner has opted for a slightly tamer setup that allows for street driving without overheating concerns he told AutotopiaLA. It strikes a balance between raw power and practicality. And when you see this car in action, you'll understand just how much it enjoys converting money into the symphony of engine roar, smiles, and burnt rubber on the asphalt.
Peering under the hood is like taking a glimpse into the realm of show-winning engineering. The attention to detail is exceptional, with meticulous efforts to hide wires and even the brake booster for the disc brake system. Every component under the hood appears to be part of a beautifully orchestrated performance. It's not just about raw power; it's about making the engine bay a work of art.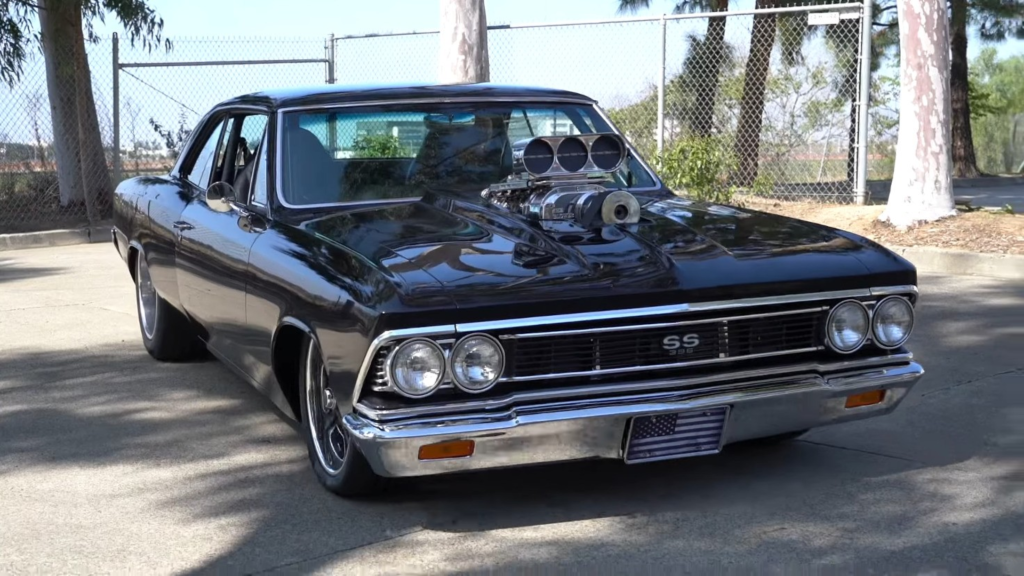 Moving from the engine bay to the interior, this Chevelle's attention to detail continues to shine. The interior appears as though it was crafted for a million-dollar showpiece, one that could claim the prestigious Ridler Award. It's a sea of immaculately stitched leather and milled metal, exemplifying luxury, comfort, and style. This combination of a powerful engine and a luxurious cabin showcases a unique blend of styles that sets this Chevelle apart from the crowd.
While this Chevelle may be built for performance, it's not just a straight-line rocket. It's surprisingly well-suited for cruising, offering a comfortable and enjoyable driving experience. However, those who prefer a classic 1960s Chevelle without the exposed blower might find it an acquired taste. Nonetheless, the combination of raw power and understated elegance is something that commands respect.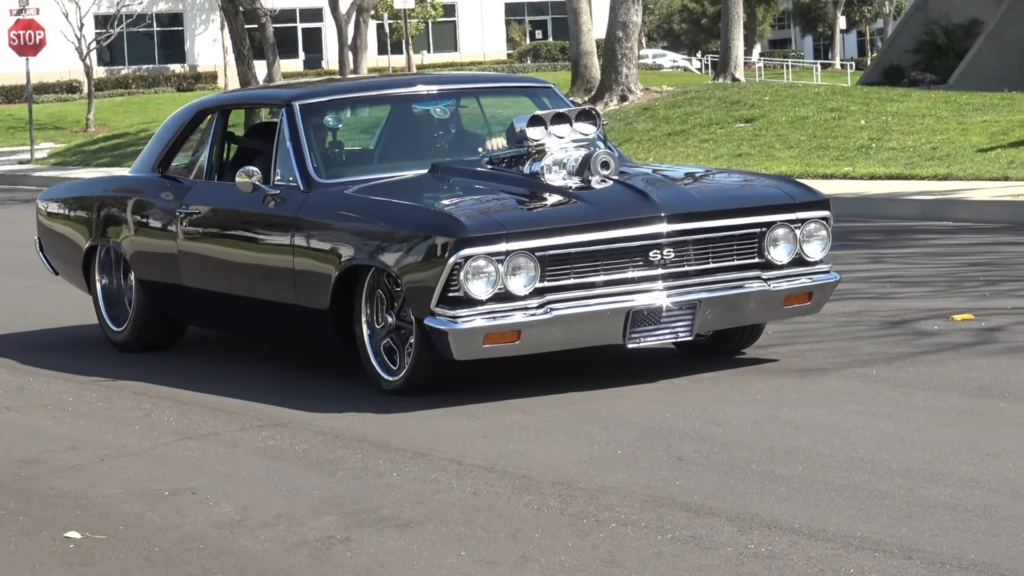 In the world of muscle cars, this 1966 Chevelle SS is a true standout. It takes the essence of pro-street muscle and adds a touch of refinement, making it a unique and unforgettable masterpiece. With its massive supercharged big-block V8, the Chevelle embodies the essence of raw power, and its meticulous craftsmanship showcases an eye for detail that's second to none.
https://youtu.be/Ui3rT91uPLo