NEW Ford Mustang 2024 FULL REVIEW!!
7th Generation Ford Mustang will be available as a coupe and convertible with either the EcoBoost or GT trim levels. In addition to these 4 you got the all new Dark Horse. So Ford is planning to produce 5 Mustang models as the Ford 7th Generation. GT Coupe, GT Convertible, Ecoboost Coupe, EcoBoost Convertible and Dark Horse. The GT coupe and convertible comes with a 5-liter Coyote V8 engine. And the EcoBoost Coupe and Convertible comes with a 2.3 Liter EcoBoost turbocharged four-cylinder engine.
The Dark Horse The Dark Horse is an entirely new breed of Mustang, it does not share any bloodlines or history with existing models. Just like the GT model, it only comes with a 5 Liter Coyote V8 engine with numerous standard performance features and exclusive track-focused options. The Dark Horse is the most track-capable Mustang. Not only is this the latest generation of the engine with dual throttle bodies fed by dual air intakes, but the version in the Dark Horse is enhanced even further. It produces a projected 500 horsepower, and Ford says the Dark Horse engine is the most powerful naturally aspirated 5.0-liter V-8 it has ever built. It pairs with a standard Tremec six-speed manual and the shifter has a special 3D-printed titanium knob. Ford's 10-speed automatic is the other option, and both transmissions power the rear wheels through a Torsen limited-slip differential. It also inherits parts from the Shelby GT350 and GT500, lightweight carbon-fiber wheels.
In Addition to these 5, Ford has 6 dedicated track variants planned. Dark Horse S, Dark Horse R, Mustang GT3, Mustang GT4, NHRA Factory X and NASCAR Cup car. The Ford Mustang Dark Horse S is essentially a stripped-down version of the Dark Horse and it's for weekend track day enthusiasts. To get rid of unnecessary weight, it has got rid of all the non-essential parts, and added race seats and steering wheel, along with safety nets and a fire suppression system. The 2024 Mustang in Dark Horse S is further modified by featuring a central panel incorporating the knobs and switches for the headlights, wipers, turn signals, rain light, and mirror adjustment. Ford also throws in a pit speed limiter and an optional front passenger seat. A data and acquisition display system is also part of the package while the exterior gains hood pins, adjustable rear wing, front and rear tow hooks, and an upgraded exhaust.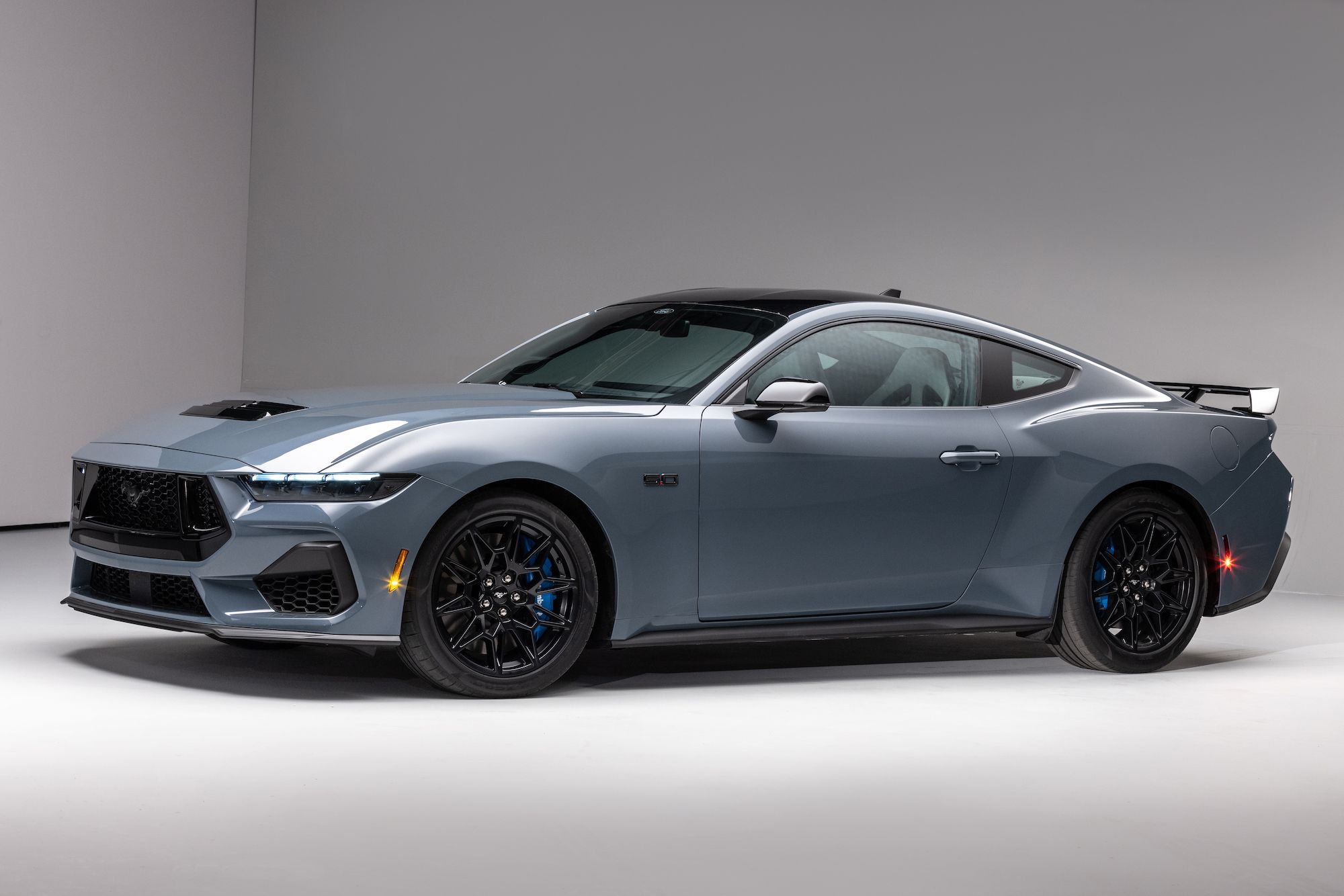 Mustang Dark Horse R, which has all the goodies of the S but comes with Ford Performance Parts wheels, a fuel cell for better range, and bespoke seam welding. In addition, the R has special serialization tailored to race cars as it's intended for actual racing whereas the S is more along the lines of a weekend track toy. Mustang GT3 is an IMSA-spec model geared toward racing programs that compete on the global stage. Ford says the first cars will be available to customer teams in time for the 2024 running of the 24 Hours of Daytona. It will be powered by a 5.4-liter version of the Coyote V8. The Mustang GT4 series is meant to appeal to privateer groups that lack the funding for a GT3 campaign. They utilize the same basic architecture, but offer less power and downforce due to series limitations, making them less costly to run over the course of a season. NHRA Factory X is short for "Factory Exhibition," Factory X slots between Factory Stock Showdown and Pro Stock. It's a brand-new addition to the NHRA series that makes room for stripped-down factory drag racers. Cars are allowed to be significantly lighter than those featured in Factory Stock Showdown, but must be equipped with manual transmissions.
Performance Current outgoing models offer 2 types of powertrains: a 2.3 Liter EcoBoost turbocharged four-cylinder and a 5-liter Coyote V8. Ford Mustang 2024 also offers two engine types. 2.3 Liter EcoBoost turbocharged four-cylinder and V8 5-liter gen 4 at 480 plus horsepower. Latter is the most powerful Mustang GT ever. 2.3 Liter EcoBoost delivers the performance and efficiency while 5 Liter V8 delivers the raw power. The base engine is still a 2.3-liter EcoBoost, though Ford says this version is all-new. The upgrade for the GT is an "advanced" 5.0-liter Coyote V8 with a new dual air-intake box and dual throttle body design. Ford says the new GT will have its most horsepower from a naturally-aspirated engine ever. We don't have the numbers to confirm that claim yet. Ford has decided to keep the 8-speed manual transmission with the GT models. However you will only have 10-speed automatic transmission on EcoBoost models. All models are Front-engine, Rear Wheel Drive with limited-slip differential.