Ford Mustang Shelby GT500 Shows A C8 Chevrolet Corvette Why It's The King
While both cars are powerful and well-equipped for the drag strip, the C8 doesn't quite have what it takes to take the win over the Ford muscle car.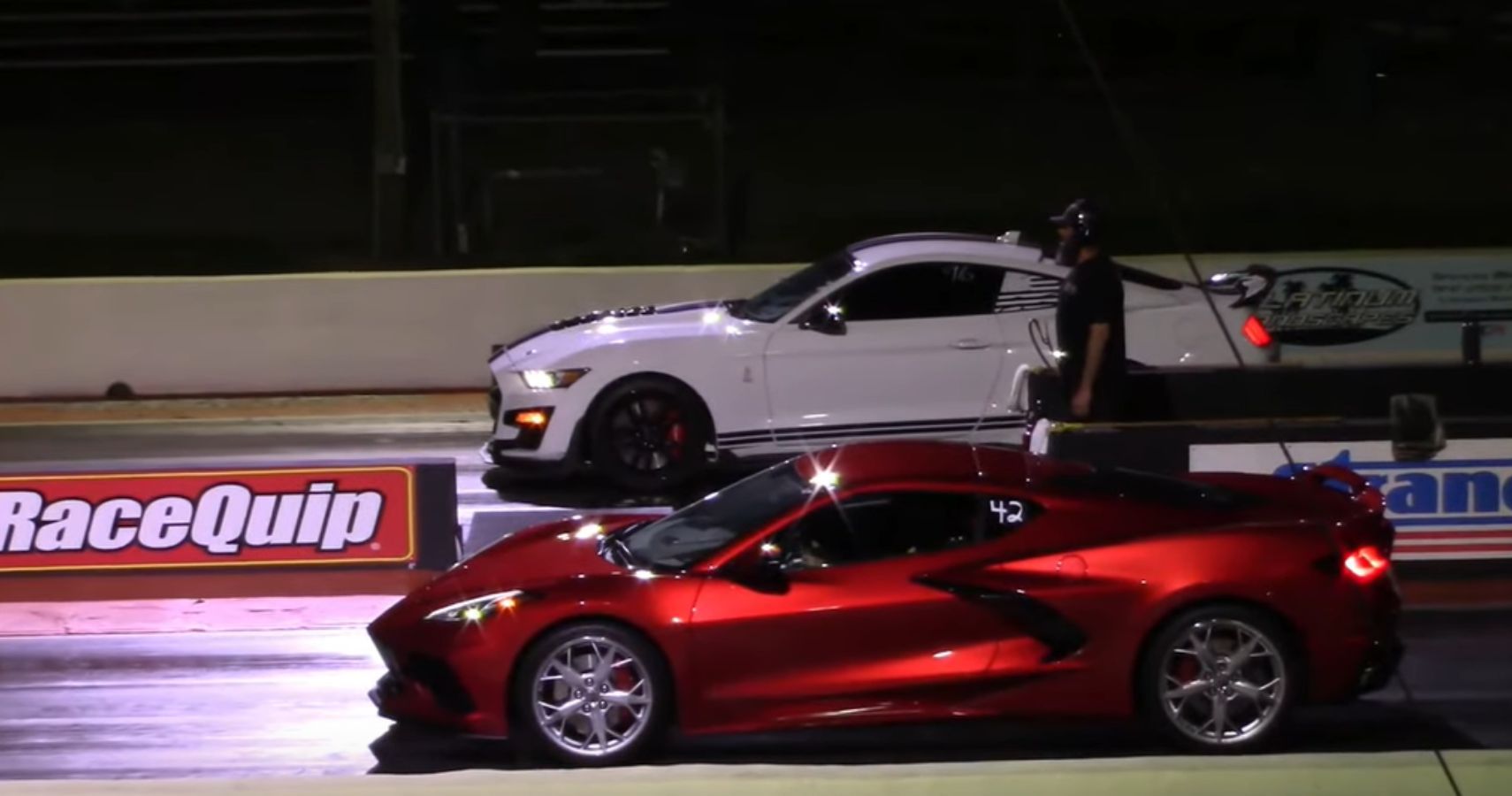 Few automotive rivalries date back as far back as Ford and Chevrolet, specifically with the performance-oriented Ford Mustang and Chevrolet Corvette coupes. Defining vehicles in the history of American sports cars, each car has a dedicated fan base. Appropriately, these two cars are in red and white.
If a blue Dodge Challenger had made an appearance, this recent clip from YouTube channel Drag Racing and Car Stuff would have been the perfect American sports car battle. Check out the short video to see Ford Vs Chevy and which comes out on top in this race.
Shelby GT500 Vs C8 Chevrolet Corvette
Unlike many videos on the channel, this one starts off without revving of engines or smoky burnouts. The red C8 Corvette and the white GT500 Mustang line up quietly and inch towards the starting line. Both cars come equipped with the potential to take away the win with powerful specs.
The Shelby GT500 outputs 760 horsepower @ 7,000 rpm from its 5.2L V8 engine along with 625 lb-ft of torque. The GT500 is the most powerful Ford Mustang available for sale today.
The C8 Corvette brings a powerful list of specs of its own to the drag strip. The base model Corvette has a 6.2L V8 engine which outputs 490 horsepower @ 6,450 rpm and 465 lb-ft of torque. The upcoming 2023 Chevrolet Corvette Z06 will up those numbers but for now, the standard Corvette Stingray doesn't mess around when it comes to power either.
On paper, while the Corvette is an impressive car, it begs the question if it will have what it takes to go against the more powerful GT500.
Ford Vs Chevy 1/4 Mile Drag Race
At the end of the strip, the Ford Shelby GT500 ultimately finishes with an 11.24 second time and a top speed of 127.52 mph. The Corvette manages to reach the end of the 1/4 mile in a pretty close 2nd place finish time of 11.88 seconds and a top speed of 114.78 mph. This time around, the victory goes to Ford.