1970 Chevrolet Chevelle SS for sale (Video)
This is a real SS, documented with 2 build sheets! Factory 4-speed, original colors, factory gauges. Upgraded with high performance 502, custom suspension and brakes. Ground up restored. EXTERIOR: I hardly ever see a white Chevelle. This one was born code 10-10; antique white upper and lower. It has a super clean body, straight and fits real nice. I especially like where the hood meets the headlight buckets. That is a problem area and this car fits perfectly. No bubbles, smooth all along the bottoms. The white paint is polished out as smooth as glass. The stripes are painted on and you don't even feel them. All of the trim looks like it's new. Upfront the bumper, headlight bezels, hood pins look new. Down the sides the emblems, wheel well moldings, door handles and mirrors are new. All that stainless trim around the gutters and windows are new. In back the bumper looks new, has cowbell exhaust tips. Door jambs are painted real slick.
New weather strips, window seals and sill plates. New polished 20 inch Torque Thrust II wheels and performance tires. Glass is tinted, new windshield. INTERIOR: According to the build sheet this car was born with bucket seats and factory gauges in the dash. The upholstery has been replaced. Door panels, armrests window cranks are new. New carpet, also has embroidered Chevelle floor mats. A digital retro stereo fits into the factory hole, has 6×9 speakers in back. Beautiful custom steering wheel. Has LED interior lights. The air conditioning will throw ice cubes in your lap. ENGINE COMPARTMENT: Has the Super desirable GM Performance crate motor ZZ502 with 502 horsepower. Researched, created and fully assembled by GM. It's a reliable power house. Dyno tested at 508 hp and 580 lbs of torque! Features include forged steel crank, rods, forged aluminum pistons, roller valve train and aluminum heads. This one was topped off with GM aluminum intake and intake Holley Sniper fuel injection system. Also has ceramic coated Flowmaster headers and MSD ignition. The components look new- alternator, wires, wiper motor etc.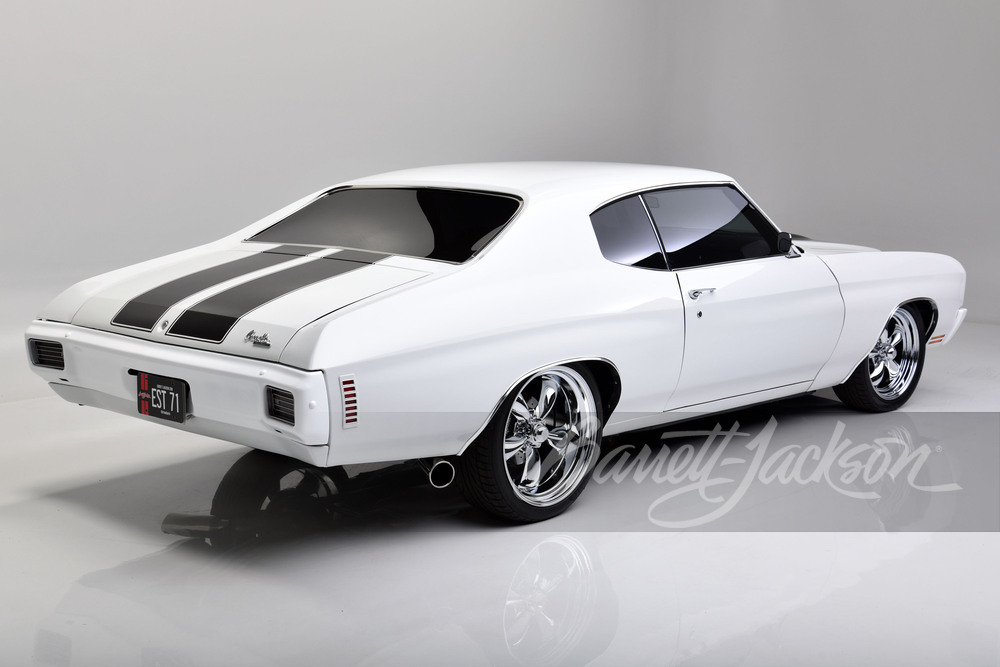 Air conditioning system has new components, updated with R134 freon. It runs cool thanks to the Griffin aluminum radiator two huge electric fans, a custom made shroud and an aluminum water pump. New cadmium plated booster and Wilwood master cylinder. Upgraded power steering box and new hoses. Everything's detailed up real nice, has a custom filler panel in front of the radiator, bottom of the hood is satin